What You Need to Know Before you See the Final Harry Potter Movie
The final Harry Potter film releases tonight at midnight, and the Internet is buzzing with retrospectives and summaries of this epic saga. I've compiled some of the best here for all you Harry Potter fans (and friends of fans being dragged to see the movie).
Going through these clips and images is a fast and easy way to catch up, or get reacquainted with the Harry Potter films.
7 Harry Potter Films in 7 Minutes
The?Fine Brothers?attempt the impossible, summarizing the first seven Harry Potter films in 7 minutes. It's a quick way to get into the movies, even if you don't know much about the Harry Potter films.
[youtube http://www.youtube.com/watch?v=L3AdfZ346wg&w=560&h=349]
(Via?EW Popwatch)
Harry Potter – A Look Back
Warner Bros. created a special featurette that takes a nostalgic look back at the films:
[youtube http://www.youtube.com/watch?v=RK2WCPYMERg&w=560&h=349]
(Via Huffington Post)
Highlights of Hogwarts: Harry Potter's Best Spells, Coolest Creatures, Saddest Deaths, and more
Funniest Transformation: Multiple Characters Turning Into Harry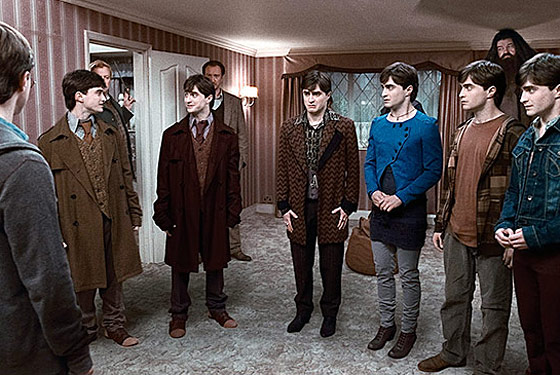 Watch the full slideshow.
(Via Vulture)
Harry Potter Comic Book?Lucy Knisley?
Artist, Lucy Knisley, created mini comic books summarizing each of the Harry Potter books, like this one, about the first book. View them all here. Or, download the high-res, poster-quality summary, or ("summharry")?here!
(Via Buzzfeed, which is also curating their own collection of Harry Potter-themed goodies)